Borussia Dortmund have secured the DFB-Pokal Trophy with victory over Eintracht Frankfurt and their manager is hopeful to remain in charge of club.
Dortmund finally manage to win a trophy, but it was all more difficult than most expected. Eintracht Frankfurt put on a very good fight and Dortmund won by a one goal margin. It all ended 2-1.
Ousmane Dembele scored an early goal for Dortmund, but Eintracht quickly responded through a strike from Ante Rebic. There were goal chances on either side. However, in the second half Dortmund dominated the game. It took a penalty decision and the goal from Pierre-Emerick Aubameyang to secure the victory.
It is Thomas Tuchel's first trophy in charge of Dortmund. The team will also play in the Champions League. However, Dortmund goes there from third place of the Bundesliga, behind Bayern and newly promoted Leipzig. Despite this, with a good amount of success in recent years some see Tuchel's Dortmund as having gone backwards. The popularity enjoyed by the Dortmund's ex-coach Jurgen Klopp also doesn't help matters.
A decision is set to be made by the club's board shortly. For his part, Tuchel says he wants to continue with his work at Dortmund. Asked if there is a chance the club may decide on appointing a different manager, Tuchel admitted this is a possibility. "Yes! I don't know, [if this was his last Dortmund game]," the manager told Sky Sports.
Tuchel says that the work to achieve their Cup victory has taken its toll on everyone at the team. The manager also admits that if the team had lost there would have been a lot of criticism the club would have had to deal with.
 "I am completely empty. After the semi-final I was full [of energy] but now I am completely empty. It was a hard work. After we scored, we stopped playing football and then we were lucky not to fall behind. But nobody talks about it anymore, because we have won. Now everything is perfect."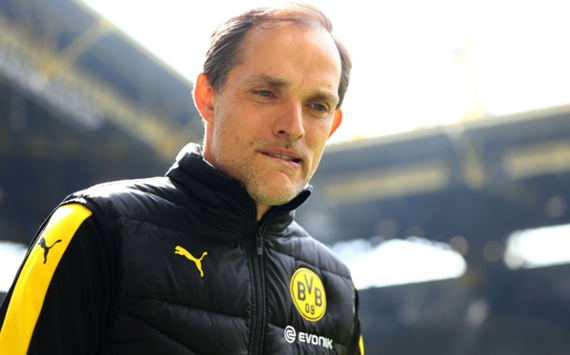 Aubameyang scored from the spot to bring victory and the player must have certainly felt confident taking the spot kick. The striker scored with a beautiful, but perhaps risky, chipped shot. Tuchel says he was aware of how the player was going to take the penalty and that the shot had been practiced in training.
"I can only say that it was a sure thing," Tuchel said. "We analysed Hradecky's penalty saves in advance. He dives to the corners. In the end it is a safe penalty because we have discussed it."