If you didn't catch City's 3-0 victory over Arsenal in EFL Cup, last night you were treated to a replay of the game in the Premier League. But why did Arsenal succumb to back to back defeats?
Manchester City looked to win by half-time
Pep Guardiola wasted no time in taking advantage of Arsenal's weaknesses. The Spaniard learned to read his adversaries following last week's 3-0 victory. Consequently, the Premier League game last night ended with the same score. But this time around it was all over by half-time. City drilled through the Arsenal defense leaving them no time or space to react. It is the first time that Arsenal are scored against three times within the first 45 minutes.
Arsene Wenger failed to make tactical changes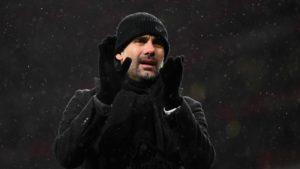 The EFL loss was all the more harsh since it showed the distance that now exists between the two teams. Given that City outclassed Arsenal in the weekend, Wenger was expected to make significant changes. While Wenger made some modifications to the  formation and selection, it was much of the same attitude that got them in trouble. Arsenal seemed to think they could beat City by playing the way they have all season.
Sure, they ended up taking more shots on target. But it was an exercise in futility. Perhaps it is best Arsenal clearly outline their objective for this season. This should be to win the Europa League and consider a Top 4 finish an added bonus.
Key miss from Aubameyang
Maybe the game could've had a different fate had Arsenal managed to take advantage of a penalty after Henrikh Mkhitaryan was brought down in the box. Pierre-Emerick Aubemayang stepped to take the kick, but keeper Ederson confidently saved it. Pep Guardiola congratulated the goalie, calling it a defining moment in the game.
"If Ederson had not saved the penalty the game would have been completely open. We made an amazing three goals, nice goals. We can't deny it was a tough game after beating Arsenal four days ago," Guardiola told reporters at the post-match press conference.
Low morale for new Arsenal stars
With pressure weighing on Arsene Wenger's shoulders, the manager decided to make important squad changes during the winter. Several underperforming players were let go. The talented duo of Pierre Aubameyang and Henrikh Mkhitaryan was brought in. Things seemed to work well at first. However, poor results in recent games have clearly shaken the confidence of Arsenal's squad.
Enthusiasm is an important component of a newly signed player's performances. Aubameyang and Mkhitaryan now have to get used to boos and jeers from the audience. It is to be seen if they have the strength their critics wrong.
Lack of action from Arsenal investors
Many Arsenal fans routinely call for the resignation of Arsene Wenger. The board has, however, shown their loyalty on numerous occasions. That is to be respected. But what is difficult to understand are the absence of reactions from Arsenal's investors. The club ownership seems disconnected from the club itself.Through this the owners of Arsenal give the impression that they are content with current results. True or not, this has an effect on players, fans and the team's opposition.
The Premier League continues and all games are to be hosted through FootballCoin contests. Show us your football manager skills and have a chance to win important cryptocurrency prizes. It's free, it's fun, it's rewarding.