With confirmation that Karim Benzema's international career is likely to end at 81 caps, we are taking a look back at players whose actions cost them a place in their national squads. Fights, feuds and insults are part of the course here.
1.Roy Keane
For many years Keane was Manchester United's proverbial rabbit's foot. His talents also came handy for Ireland's national team, who he helped guide towards the 2002 World Cup tournament. His controversial behavior was largely overlooked due to  Keane's amazing abilities, which made him one of the best players in the world.
But the skipper's temper got the better of him when the Irish team arrived at the training grounds in Saipan, ahead of the World Cup. Keane complained about manager Mick McCarthy's organisation of the team and about the training conditions. Following a series of verbal insults, McCarthy took the drastic decision of sending Keane home. The nation of Ireland was shaken up, with many publicly asking that the for the two men patch things up. They didn't.
Ireland performed well in the World Cup, reaching the Round of 16 and barely losing out to Spain. Keane was brought back into the squad in 2004 and retired in 2006.
2.Edgar Davids
Davids created quite a reputation for himself back in his playing days. The one time Champions League winner was known as one of the toughest midfielders in the game. He also became known as something of a petulant player, with a tendency of getting himself into conflicts with his managers.
It's what happened in 1996, when Netherlands were regarded as one of the favorites to win the Euro. Davids and some of his younger teammates found themselves at odds with the more experienced members of the squad. When Davids questioned manager's Guus Hiddink setup, the midfielder was swiftly sent home.
Davids was eventually brought back into the fold, but his oscillating performances at club level, made for an unpredictable route at international level.
3.Nicolas Anelka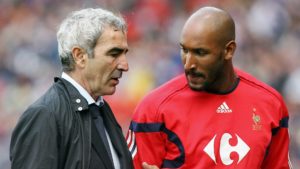 Always an unpredictable character, Anelka was never shy about stirring up trouble. The striker was also known for sporadic moments of brilliance. It was this that brought him into France's 2010 squad for a World Cup that the Europeans were hoping to win.
But soon enough, manager Raymond Domenech had a full blown strike on his hands. Team morale is said to have been at an all time low.The players responsible for the protest reportedly asked the manager that Anelka be banned from the squad.
Facing a potential disaster, Domenech relented. Anelka was sent home and later was handed a 18 game ban from the French Football Federation, effectively ended his international career. France failed miserably inthe World Cup, losing to Mexico and South Africa and being swiftly knocked out.
Who is this list missing? Would you have chosen differently had you been in these managers' shoes? You can make your decision about squad picks when the FootballCoin contests return. Make sure to register and create your perfect drafts.
Eduard Bănulescu