Wednesday evening the UEFA Champions League starts with a derby in group G, RB Leipzig taking on the undefeated Russian Champions Zenit Sankt Petersburg.
Is not a surprise Zenit are undefeated in the European clubs supreme competition, this season. Semak kept an ace on his sleeve for each big match, based on his players that can easily move between multiple positions on the pitch.
On the other side RB had a strong start to the season in Bundesliga, Nagelsmann being seen and praised as a top European manager. Unfortunately, the German side has lost some of its form in recent times and could were unable to speculate the wrong steps made by Bayern in the domestic league, having also lost against Lyon in UEFA Champions League. Lot of hopes are put on Werner, the top German goalscorer.
From the football fantasy fan and manager perspective this fixture can be seen as a difficult one, in a match that is part of FootballCoin free contest where cryptocurrency awaits to be won. Don't forget to register your draft here.
Recommended draft line-up: Lunev – Ivanovic, Orban, Klostermann – Sabitzer, Forsberg, Zhirkov, Barrios – Azmoun, Dzyuba, Werner.
RB Leipzig – Zenit probable lineups and player workrates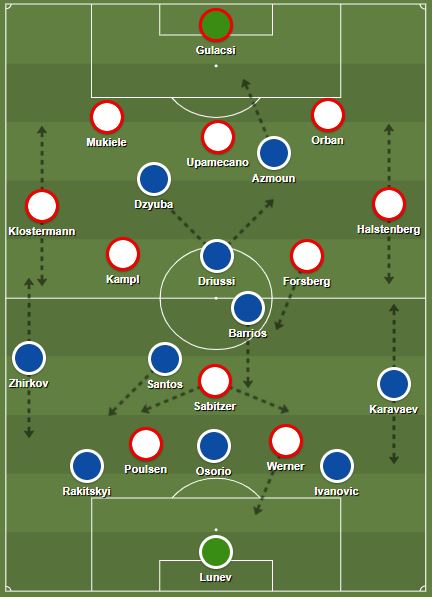 After 2 group games, Zenit lead in the standings, having earned 4 points, tied with Lyon for first place. RB Leipzig have earned 3 points, yet have been impressive in both their 2 outings. Benfica, seen initially as one of the group's favorites, sit bottom having not earned a single point. Given the four teams' similar potential we do, however, see a chance for things to change before the end of the six group games that are to be played.
With both teams having earned a considerable reputation at home and abroad, and with almost all available players free for selection, consider this match when selecting your fantasy football draft.