Nottingham Forest is, historically, one of Britain's most celebrated football teams. If you've been following them in recent years, you will know the hard times on which they landed. This year they are mounting a surprise promotion challenge.
Here are the Reds' 5 secret weapons that could get them to the Premier League.
Matthew Cash
Matty Cash is one the Championship's finest full-backs, dominant on the wings, capable of fine crossing, and looking to make a name for himself. He's only 22 years old now, and the big sharks are bound to come circling regardless of Nottingham promoting or not.
Key stats:
Played +40 games in the Championship
Scored 3, assisted 5
Capable of playing as a defender, or midfielder
Was often the team's best player.
Sammy Ameobi, Ben Watson, and Michael Dawson
Nottingham Forest haven't been in the Premier League since 1999. And, even then they were someway off their standard as previous European Cup winners. No, really! A loong way off…
However, they have EPL experience on their side in 2020. Samuel Ameobi, the towering left-winger played for Newcastle earlier in his career. Michael Dawson, the team's undeniable leader, was part of Tottenham's first Euro-worthy side of the 2000s. Ben Watson is an EPL veteran as well.
Their combined ages jump easily above the century mark. We think they can sneak the Reds back into the Prem.
Lewis Grabban
Key stats:
Scored 20 whole goals this season, assisted 3
Played in nearly all games in spite of his age
Is not versatile, but, rather, a specialist in the striker position.
Doubters of Lewis Grabban's goal-scoring abilities will find themselves forced to swallow their words. The English striker manages to fly below everyone's radar, yet still scored 20 goals this season.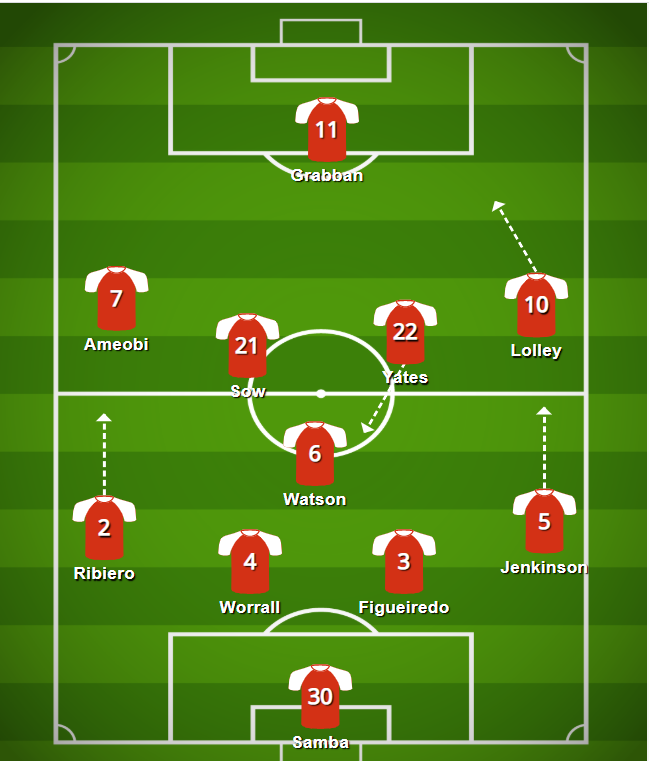 Nuno da Costa
In Football Manager 20, I've managed to turn Nuno da Costa into the league's top goalscorer. In reality, he's not hit a goal the whole season. No matter! I am confident he's been saving it up for the Championship playoffs, where the former Strasbourg striker will be nothing short of spectacular.
Alex Mighten
We've saved the best for last. Alex Mighten is a diminutive forward/winger with excellent skill on the ball and a great work ethic. He's been involved in few games. But, when's he has gotten the chance to play he's shown to possess great abilities. Sabri Lamouchi, send Alex in, and turn him into a club legend!