It's the least likely of UCL semi-finals and a dream for football hipsters. On the one side, there is Ajax, a team seemingly built out of a talent factory capable of operating miracles. In the other corner, Tottenham, a team made great by the micromanagement of Mauricio Pochettino and the endless self-belief of their players. What can we expect from the UCL game tonight? And which players should you have on your fantasy football team?
Can Spurs handle Ajax's pace
Ajax is far from the negative team, hiding in defense, that pundits may have anticipated. In fact, when allowed to develop their regular game, they are downright unstoppable. Fans of fantasy football will be excited to learn that most players they are able to choose from Ajax's squad are free in FootballCoin. But, who should they get?
There is no way to understate Frankie de Jong's importance. The midfielder has been compared to a young Johann Cruyff. It's a bold claim that FC Barcelona may be keen to back up. The player has already been snapped up for the price of €75m. The sum now seems like a bargain.
Free from the constraints of the Premier League, Dusan Tadic has been playing the best football of his career. There are few central forwards that have been as impressive in recent seasons as the Serbian. Overall, given the immense excitement, the players must be feeling, there are few weak points we could find with the Eredivisie side.
Pochettino has lived up to the promises
A new stadium, world-class players bought on a budget and a place in the UCL semis. If this seems like a dream, the offer was all the more unrealistic merely a decade ago. But, tirelessly, manager Mauricio Pochettino has kept at it. And, for the most part, Tottenham has progressed slightly each year. Qualifying to the UCL final would be one of the greatest achievements of any British team in decades.
Out of the team projected to appear tonight, Christian Eriksen is likely the most important piece in the finely oiled machine. The Danish midfielder, a former Ajax player himself, has been in superb form this season. This could well turn out to be the player's swan song for Spurs, with teams like Real Madrid pursuing his transfer in the summer.
What players to avoid?
Ajax has an almost full bill of health. Only Carel Eiting should miss the match through a long-term injury.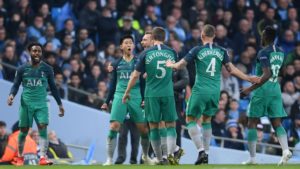 As for Tottenham, their squad is well-stretched beyond capacity. Harry Kane is once again injured, by far the most serious concern. Aurier and Winks are also out for the same reason. And, Heung-Min, a hero for the team in recent weeks, is suspended.
Get your drafts ready for the fantasy football event set for tonight! We're looking for managers ready to win and we're ready to repay them with cryptocurrency prizes.
Eduard Bănulescu