Solskjaer is right. The gap between Manchester United and their biggest rivals is closing. Even more amazingly, against Jurgen Klopp's Liverpool at the weekend, United often held the upper hand. Yet, the side hasn't changed dramatically from a year or two ago. Here are the tactics that allowed the Red Devils to nearly steal a win from modern EPL giants, Liverpool.
Solskjaer's conservative tactics prove the more appropriate for the times
Jurgen Klopp's Liverpool has been a joy to watch in recent seasons. Theirs flee flowing, attacking football has garnered comparisons with some of modern football's greatest teams. However, this was true back when teams had the time to prepare for a new campaign. The technical gap this year is smaller between clubs.
While, arguably, Liverpool have remained the best team in the Premier League up to January, their results are mostly the consequence of difficult labor and occasional glimpses of genius. Welcome to Solskjaer's world!
United is also a team constructed on the merits of backbreaking work punctuated by occasional glimpses of wizardry from players like Bernardo Silva or Marcus Rashford.
Tactics, formations, roles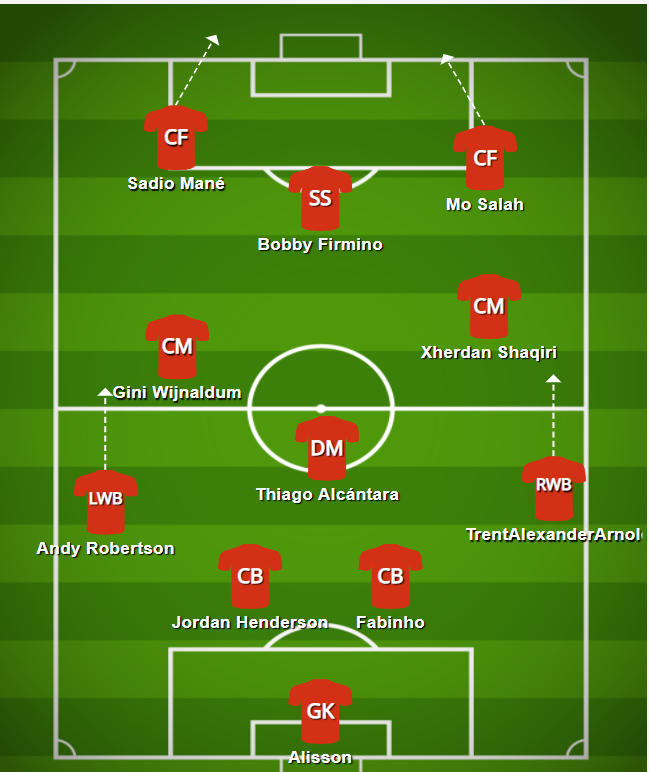 Liverpool greeted their rivals in their familiar 4-3-3 formation. A long list of injuries meant that Klopp's team could not assemble their finest squad, or at least not in their typical positions.
Midfielders Jordan Henderson and Fabinho were moved into central defenders roles. It's a task they handled well and not much different from the tough, hard pressing work they performed for the Reds in midfield, on a regular basis.
Xherdan Shaqiri a player of similar ilk filled one of the vacant spots. More surprisingly, perhaps, Thiago Alcantara was given effectively a regista role. It was a more technical interpretation of the central midfield position that Klopp has prepared fans used for.
Meanwhile, Manchester United opted to field their most succesful squad within a 4-2-3-1 formation. The Red Devils best side is also their least technically gifted alternative. For example, full-backs Luke Shaw and Aaron Wan-Bissaka rarely venture above the half-way line. The same can be said of the two pivots, Fred and Scot McTominay who, effectively, acted as the second row of central defenders behind the strong, but usually sluggish, Harry Maguire and Victor Lindelof.
While this may sound like a crude translation of managerial tactics, it worked great against the Premier League champions. United got bodies in front of the ball. Their pressing was not wild and risky, the way their rivals tend to play. When Solskjaer's men won the ball they were quick to launch it forward.
The counterattack, a tactics evergreen
Some complain about Jose Mourinho's tactics used for Tottenham, as well as previous club Manchester United. However, fundamentally, there are a lot of similarities between the way the Manchester club used to play under Mourinho and the way that they play now under Solskjaer. The quality of the personnel has improved though as has the team's morale. Both are the merit of the Norwegian manager.
United may have had the matches' biggest chances. Yes, it was not a particularly thrilling affair, but that's just how United likes it against more technical opponents. The Red Devils were threatening from set-pieces and on the counter-attack. The passing skills of Fernandes and Paul Pogba, together with the speed and technique of Marcus Rashford and Anthony Martial can allow them to score goals against good opponents.
Solskjaer's tactics involved jam-packing the halfway line. United's small width, their lack of desire to exploit the flanks, and the players' discipline fully compensated for the better technique possessed by Liverpool's men.
Conclusion
While it is too early to tell, it looks like both Liverpool and Manchester United will be battling for the Premier League crown this year. For one of these clubs, this seems like the normal state of affairs. For the other, it hasn't been so.
Football matches, however, are not won just by the team that is capable of putting on the best display. Sometimes it is by a manager that knows how to evaluate and use resources. Ole Gunnar Solskjaer, for all his doubters, has been great at doing just that.
If you too want to show your managerial abilities, why not join FootballCoin, the best fantasy football game on the internet? It's free, contains the world's best football leagues, and guaranteed to bring the most crafty of managers, real rewards.