With the world's top forwards deemed to cost hundreds of millions of dollars by the clubs currently employing them, youngster Erling Haaland, goalscorer extraordinaire, has sparked the interest of high-profile clubs, chief of all Manchester United.
Here are 3 reasons why Haaland's transfer to the Premier League would make sense following last night's Champions League performance.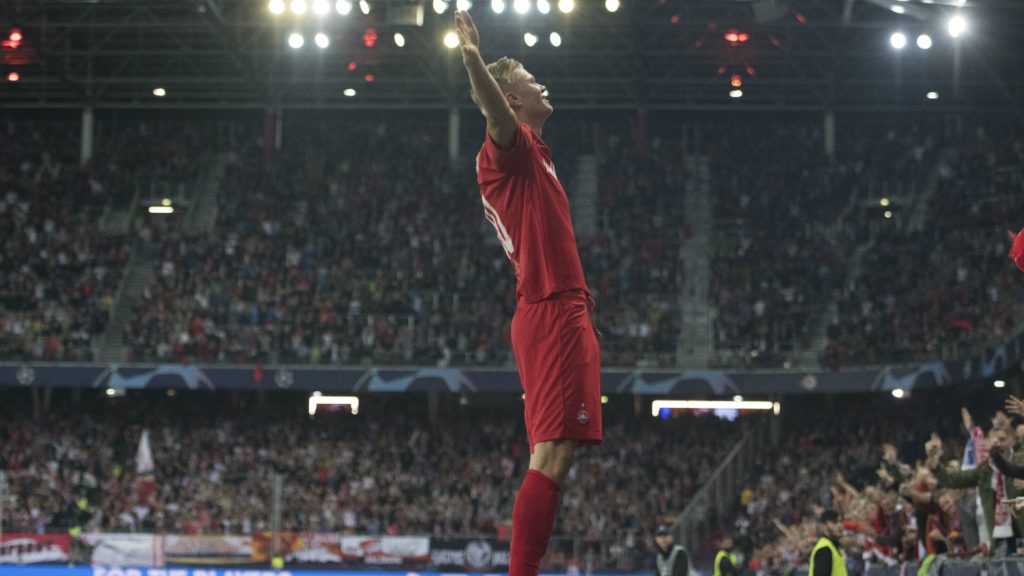 Consistent goal scorer
Another match, another goal. Furthermore, it's all happening in the Champions League. Such things simply do not happen to one season wonders. Erling Haaland's career may go into unexpected places. Hype and overenthusiasm have been known to occur. But, the fact is, Haaland has scored against opponents of all ranks in the UCL.
Last night he was lucky, of course. But, the best strikers often are. The Norwegian latched on to a loose ball to seal a 4-1 away victory for RB Salzburg against Genk, a team that, unlikely their Austrian opponents, was unable to make the best of their opportunity on the top stage.
The right profile for the Premier League
The EPL may just be the top football competition in the world. It's a complex system that welcomes complex characters and players. But, at its most basic, the type of forward that excels in the Premier League matches many of Haaland's attributes.
Haaland is an overpowering presence, capable of great finishing and with very good heading abilities. His knack for positioning has also been key to many of his goals for Salzburg. Yes, playing in the current system that the Austrians employ, allow the Norwegian a great deal of freedom. He may not receive the same treatment in Manchester. However, his strength, speed, and determination make us recall players like Romelu Lukaku or Andy Cole, forwards that went on to have a wonderful career in England.
His dream is to win the Premier League… with Leeds
The young Haaland was raised on the dreams of one day playing for Leeds United, the club that his father played for. Such ambitions may have seen lofty a few years back. But, now on the cusp of joining an EPL side, Haaland looks more than prepared for the challenge.
Players often fail to adapt to the rigors of playing in England. The psychological factor is certainly nothing to ignore. Haaland seems to have motivation in spades. Surely, a player capable of scoring in 5 straight Champions League clashes is hungry for success. This is one of the main things that teams like Manchester United are banking on should they decide to transfer him and let him replace some of the jaded players they currently have in their squad.
Erling Haaland looks set for a bright future. Will you be including him in your fantasy football draft? Have your say on the contest page of the FootballCoin game for a chance to win important cryptocurrency prizes.
Eduard Bănulescu