Serie A has always been one of the most tactically sophisticated football leagues in the world. For that reason, choosing an ultimate fantasy football draft is no simple task. Starting today we come equipped with the tips and tricks meant to ease your selection concerns.
Gameweek 27
Heading into the final stretch of the season we have a number of challenges. Inter may be leading the pack, but rivals AC Milan and Juventus are desperate to get back in the fight. Teams like AS Roma, Atalanta, Napoli, and Lazio all wish to book their European spots for next season. There's plenty of action at the other end at the table. And, that's before you factor in all of the injuries, suspensions, hot streaks, and poor performers. Here are the players we recommend for selection.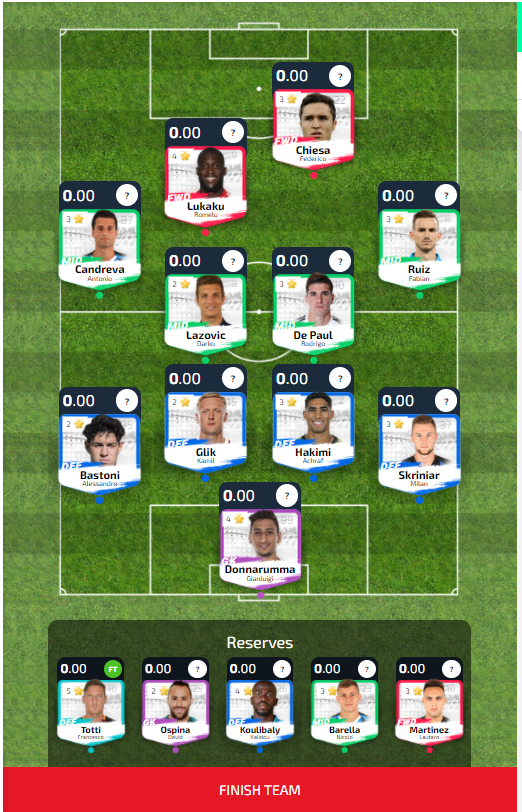 Gianluigi Donnarumma (AC Milan) – He's the best Italian goalkeeper of his generation and will be integral in keeping Milan's dreams of a new Scudetto alive.
Alessandro Bastoni (Inter Milan) – Other players in Inter's squad may receive more praise, but Bastoni has really been proving himself of late and could out to be Conte's secret weapon.
Kamil Glik (Benevento) – Glik put an excellent display against Spezia last week. It's because of the resilience of players like him that Benevento stands a chance of avoiding relegation.
Achraf Hakimi (Inter) – Put in a quiet performance against Atalanta, but would not be surprised if he at least grabbed an assist against Torino.
Milan Skriniar (Inter) – Was Man of the Match against Atalanta and is in good form. At the moment Inter players make a good investment for fantasy football drafts.
Antonio Candreva (Sampdoria) – Has put in some heroic performances this season. Expected to really show up against Bologna. Can also score points if his team is awarded penalities.
Darko Lazovic (Verona) – One among several Verona players that have impressed this season. Expected to continue his good run of form.
Rodrigo de Paul (Udinese) – A unique Argentinian central midfielder. Has had a great season and it's only a matter of time before an even bigger team snaps him up.
Fabian Ruiz (Napoli) – Gli Azzurri finally resemble their old selves in terms of potential squad selection. Ruiz will need to be driving creative force against AC Milan.
Romelu Lukaku (Inter) – Great strikers show up in important matches, and Lukaku has done so throughout most of the season. Napoli is a tough opponent, but the striker's goal rate make him an ideal choice for any draft.
Federico Chiesa (Juventus) – The youngster scored two against FC Porto this week and will look to retain momentum as the champions travel to Cagliari.
Looking to play Serie A fantacalcio of the best kind and earn some real prizes? Come and join the best fantasy football game on the web, FootballCoin.