Manchester United managed an away draw to Sevilla in the first leg of their Champions League tie. In spite of Jose Mourinho's hesitation, it took Paul Pogba's involvement to secure the result.
Paul Pogba, the player Mourinho needs
A 0-0 draw away to Sevilla in a two leg tie is not a bad result for any team. Least of all for  Manchester United who has struggled against big reputation teams for most of the season. 
Sevilla had lost only one of their last 35 home games. The team that is most famous for their continued success in the Europa League is eager to stretch their influence in European football.
Last night they dominated and enjoyed the majority of big chances. With 15 minutes to go, and time moving at a snail pace for United, Mourinho was forced to swallow his pride and send in Paul Pogba.
The Frenchman has visibly been at odds with Mourinho for the last few weeks. The manager has publicly declared himself unhappy with Pogba's lack of versatility. Confirming that this was unlikely to be a passing phase, the manager even spoke to the press about his his intention to purchase a new defensive midfielder. The final straw was keeping the Frenchman on the bench in a vital match against Sevilla.
David de Gea to the rescue for Manchester United. 🙌

Will THAT save prove crucial in the tie? 💪 #UCL pic.twitter.com/PXU95tbr93

— UEFA Champions League (@ChampionsLeague) February 21, 2018
That was until it became apparent that United were failing to keep Sevilla away from their own half. An overworked David De Gea can only do so much after all. It was then that Mourinho made the decision to send in a familiar face.
Pogba allowed to play in the role he knows best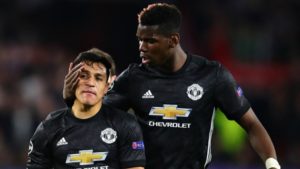 Paul Pogba played in the role he is most comfortable with and for the most part did it well. While the player seemed to lack some of his usual pace, he was vital in helping United move out of their own half and create chances. The Red Devils' number six even helped set up up Romelu Lukaku for a goal, that was eventually turned down by the referee.
In typical fashion, Mourinho defended his decision to start with youngster Scott McTominay instead of Pogba, but thanked the Frenchman for his effort.
"I think Paul made a big effort to try to give the team what I asked of the team. I started with Ander and Scott and I think a fantastic player like [Ever] Banega, he wasn't [fantastic], because he didn't have the space to be the Banega that the world of football admires and Paul replaced Ander."
"He tried to bring the same qualities, plus his security with the ball. Of course he lost a couple of possessions, but he also gave us stability because he gave us a good percentage of possession for the way we play and the match away to a good team like Sevilla," Mourinho told reporters at the post-match conference.
When it was over, Sevilla were likely to feel like they'd been robbed of victory. Jose Mourinho will be accused of once more "parking the bus". Even if that is true, it looks like the Man. United manager needs Paul Pogba in the driver's seat.
The game, as well as all other Champions League matches, are available in the FootballCoin contests. Registration is simple and free. Rewards are provided for the top managers.