Lucas Moura offered his best football demonstration since arriving at Tottenham from Paris Saint-Germain. The Brazilian scored twice in a 3-0 victory against Manchester United, at Old Trafford. 
Tottenham has been truly impressive in recent years despite having failed to win silverware. The squad features some of the most exciting, young talent in England and they are working ardently to hold them at the club. Perhaps because of this, the club has spent a lot of money on transfers on limited occasions.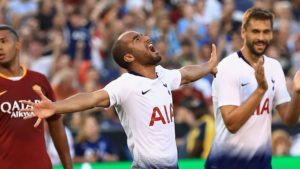 Lucas Moura was one of the rare exceptions. The Brazilian arrived from PSG earlier this year for a hefty price tag of 28,00 Mill. €. His full potential had thus far remained unconfirmed. Last night, against Manchester United, this all changed. Moura scored a double in a dramatic 3-0 victory at Old Trafford and announced himself as a worthy attacking partner to the goal scoring machine that is Harry Kane.
A game of two halves
The Red Devils were perhaps the better side in the first half, with Fred and Romelu Lukaku wasteful of important goal opportunities. Spurs were seldom dangerous, with the central defensive duo of Phil Jones and Chris Smalling rarely being called upon to do much heavy lifting.
However, United's apathy was seized upon Spurs in the second half. First, Harry Kane headed the ball from the yard box and through a set of baffled United defenders to make it 1-0. Then, Shaw and Jones were left trailing desperately after Eriksen who crossed the ball over to Moura to double the advantage.
A desperate United tried to get back in the game but Sanchez, Lukaku and Lingard all failed to produce shots on target. And things were about to get worse for Mourinho's men. With seven minutes remaining, Lucas Moura latched on to a long ball forward, easily dribbled past a confused Chris Smalling and adisoriented Phil Jones to make it 3-0.
In all fairness, United didn't play poorly. They dominated for the first 50 minutes and conceded on one of Spurs' first real chances. The further two goals were the result of an inspired performance by Moura and a routinely aimless one by United's central defense.
Lucas Moura received a whopping 60.91 points for his performance last night in FootballCoin. The player, who is currently free in the fantasy football game, has played in all three of Spurs' games in the Premier League this season and has managed three goals in total.
Crunch time for Manchester United
Analysts have thus far only assumed that a crisis was developing at Manchester United. After all, manager Jose Mourinho seems ceaselessly unhappy, players look unmotivated and results have been far from first-rate. But the heavy defeat to a title rival seems to confirm that there's trouble brewing at Old Trafford.
United has only three points from their first three Premier League games. They look far afield from being the title challengers fans were expecting. The state of uneasiness was further given proof when manager Jose Mourinho stormed out of the press conference.
The Red Devils take on Burnley next Sunday in a game they will frantically be looking to win. Tottenham, who have won all three of their opening games, travel to Watford hoping to add a fourth victory. The matches will be hosted through FootballCoin contests. Make sure to register and create your team. We will be looking to reward your efforts.