Mohamed Salah has been hailed by Jurgen Klopp as the greatest footballer of the present. He has been arguably Liverpool's most influential player during a great period. And, his consistency seems downright remarkable. But, just how good is Salah in fantasy football, and should you pick him every single week? Here's our take.
Living up to the hype
Mohamed Salah was nicknamed The Egyptian Messi ever since his earliest days as a player. He was one of several would-be inheritors of Messi's throne. However, it took forward a few years to truly come into his own.
Joining Liverpool in 2017 coincided, virtually, with Salah's rise to superstar status. Since then, he has scored an incredible 108 goals in 160 matches for Liverpool at the time of writing. He's also been praised as one of the greatest footballers in the world right now.
Since joining Liverpool, each year he has been among the Premier League's best forwards. FootballCoin takes into account only real data. Consequently, yes, Mohamed Salah has been a great pick consistently for your fantasy football team.
According to FBRef, Salah hasn't started less than 33 games per season or scored less than 19 goals since joining the Reds. These sorts of stats put him in a very special bracket of elite players. According to the same stat archive, Salah has been among the Top 3 performers at Liverpool in three of the five seasons that he has been in the team.
Salah's fantasy football stats in 2021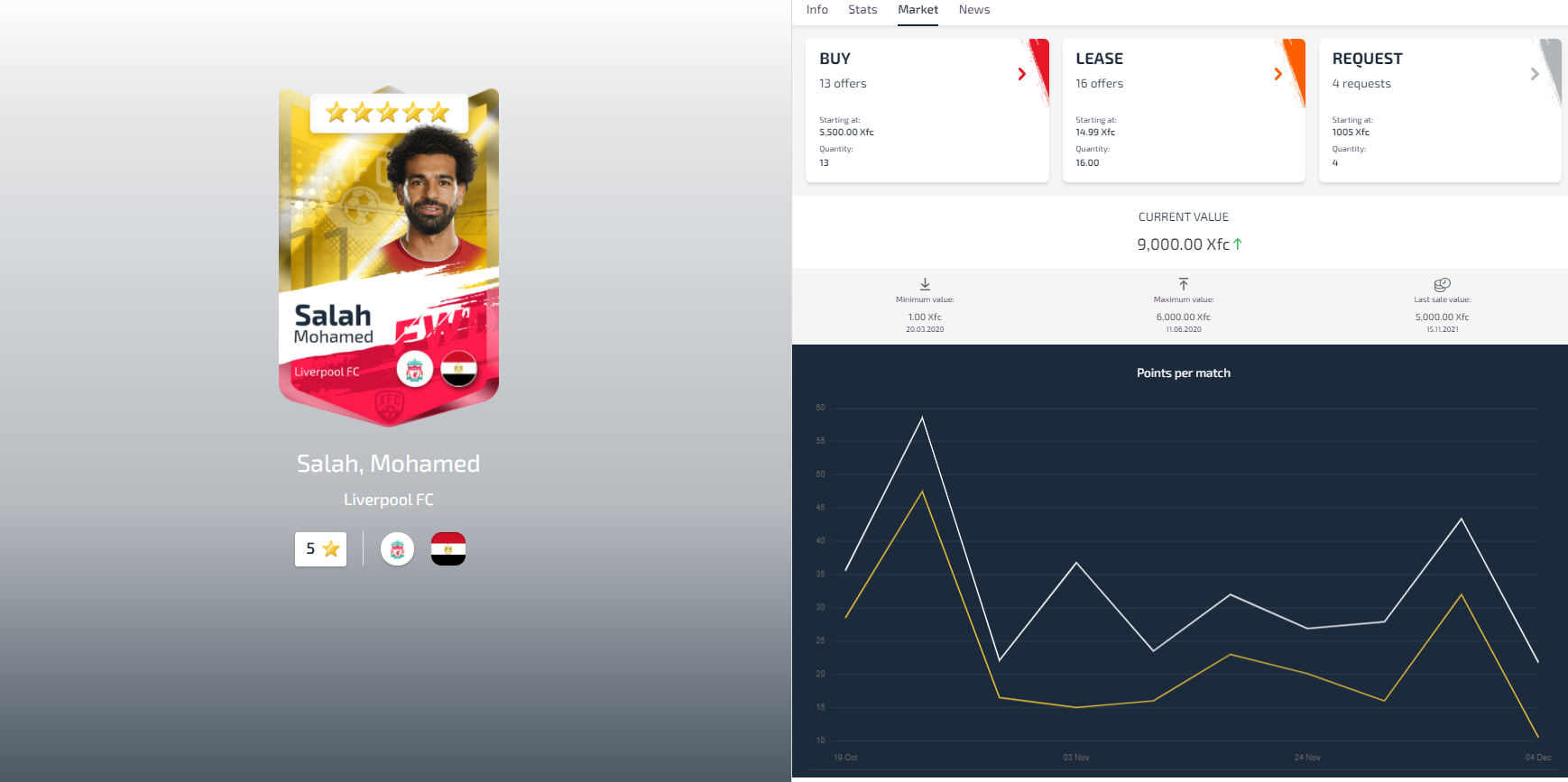 As mentioned, Mohamed Salah has been consistent since returning to England. Still, his performances in 2021 have been among his very best. The stats resemble those from the 2017/18 season, arguably the Egyptian's greatest season.
In other words, if you have Mohamed Salah on your fantasy football team, your chances of winning increase!
(graph stats)
In FootballCoin, this season, Mohamed Salah is the third best-rated player in the Premier League, and the best-rated forward. His daily stats vary from above average, to exceptional. Salah is one of four Liverpool players that make the EPL Top 10. This shows just how much help he has received from his teammates.
How important is Salah to Liverpool?
Mohamed Salah is negotiating his contract extension with Liverpool. The Egyptian has made it clear that he would love to remain at Anfield. But, why are the team's owners considering their options? How important is Salah to Liverpool anyway?
First of all, as mentioned Salah has been among the team's best players since joining the club. This has happened each year, without exception. Has his performance dipped at 29 years of age?
Not according to the stats. Salah is in the top 1% of players in the top leagues for Non-Penalty goals and Non-penalty xG (expected goals). He is also among the top 25% in terms of assists and expected assists.
Salah might be viewed by some as a selfish player but this isn't entirely true either. The Egyptian makes 15.3 pressing actions per game. It's an average value, yes. But, it's higher than most other elite strikers.
Salah also gets a lot of touches on the ball. Those just happen to be, most of the time, in the opposition's penalty area. It all means that when Salah has the ball, he has a tendency to either create a goal opportunity or to quickly set up one of his teammates. These are skills that few other players can match.
Should you have Mohamed Salah on your fantasy team?
Yes! It's not like you're strapped for choices. However, statistically, for an entire season, few forwards should be able to provide you with the same results.
Son Heung Min, Romelu Lukaku, Harry Kane, or Cristiano Ronaldo are all great options as well. But, none has done as well and consistently in the EPL as Salah.
Players like Pierre-Emerick Aubameyang or Marcus Rashford are considered of similar potential. They've been in the EPL for a similar amount of time. Whether because of injuries, or poor form their performances have tended to trail off.
Mohamed Salah is available as a 5* NFT card on the FootballCoin market. The card can be purchased from another FootballCoin user willing to part with it.
Create your FootballCoin fantasy football team now. Consider Mohamed Salah for it. Or, prove to us and yourself that you can create a winning team without him. Either way, FootballCoin is looking to reward you.