It took a goal from an overhead kick in the 85th minute from Olivier Giroud to give Arsenal the winner against Red Star in the Europa League. Despite this, the French striker remains humble.
Arsenal is perhaps the most famous team featured in this season of the Europa League. It's clear though to all observers that this will not be an easy ride. The Gunners won their encounter last night against Red Star Belgrade through a late goal from Olivier Giroud. It was the perfect goal, through an impressive overhead kick, at the right moment. However, the French striker, as usual, remains humble about his achievement.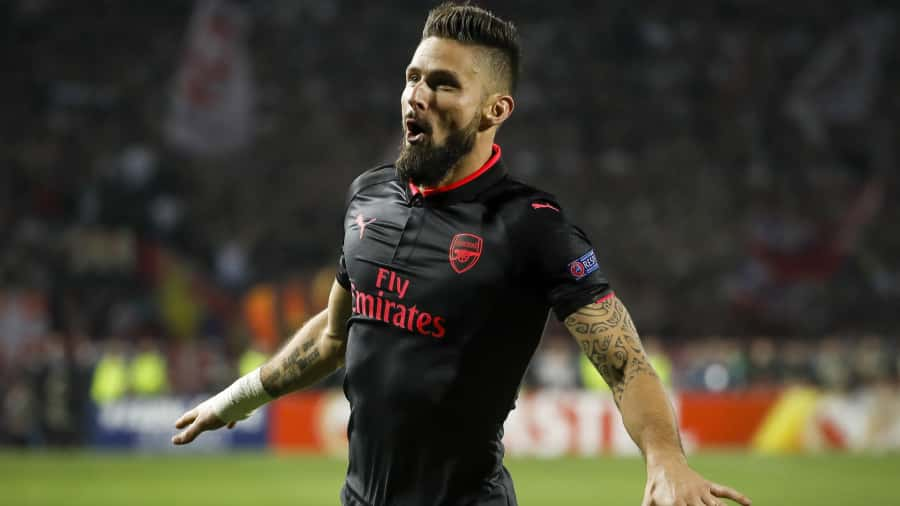 The Arsenal forward admits that there was perhaps a degree of luck that allowed Arsenal to take away the three points from the encounter. Speaking to UEFA.com reporters, he admits that his goal also benefitted from a touch of good luck.
"In that position, I can control the ball and try to play with another team-mate," Giroud told UEFA. "But I didn't see anyone so I tried to take it as I can, a little bit like [against Crystal] Palace [in January], I've been a bit lucky because it's top corner and it's the back of the net."
It was not an easy win, in certainly one of Arsenal's toughest seasons in recent memory. In the Europa League competition, the hard work looks to be paying off. Arsene Wenger's team has earned three straight wins and is now the leader of Group H.
Olivier Giroud says that the team always knew they were in for a difficult game played under stressful conditions. Despite the charged atmosphere in the stands, the striker says that the team remained confident, tried playing their normal game and were convinced they could be rewarded the three points.
"It's nice for the team, I'm happy for the team because we've been resilient until the end and we keep believing in our game and we knew it was going to be a tough game and just needed to be patient and play our game with our qualities."
"It has been very difficult because it's an amazing atmosphere here, special atmosphere, the crowd is behind their team and it was a tough game but we're very pleased with the three points," Olivier Giroud went on to say.
Humble after the fact, yes. But manager Arsene Wenger reveals that Giroud promised him at one point the game that he would score for his team. Certainly, Giroud's performances and goals can bring an important morale boost to the team.
"At some stage, he came to the touchline and told me we will score. That's Giroud, he keeps belief when it's tough," Wenger is quoted as saying after the game. "That's why he scores at moments you do not expect him to score."
Arsene Wenger and Arsenal continue their season in which fans expect great things. After a series of rather disappointing seasons that culminated in the team losing out on Champions League qualification last season, the Gunners will want to prove themselves in the English Premier League and Europa League.