The game of football is more competitive than it ever has been. The players aren't the only ones feeling the pressures. Here are five top-class managers that are currently without a job.
If you're ready to test your fantasy Premier League skills, why not head on over to the FootballCoin contest page. The EPL, as well as 11 other top leagues, are represented. The game is free to play and lets you win real rewards.
Football Managers Without Jobs Update 2022
Zinedine Zidane
Zinedine Zidane makes our list by choice, we imagine, rather than forced by circumstances. At the moment he is one of the most successful young managers in the game. His original run as a manager with Real Madrid is something for the history books. His return was rather successful as well.
At the moment he, by most accounts, taking a break. He is said to have refused offers from Manchester United and Paris Saint-Germain. And, if you believe the rumours, he is waiting to see if the France national team position will open up anytime soon.
Frank Lampard
Frank Lampard got off to a flying start to his career. Sure, his status as a player played a hand in this. After just one season in the Championship, Lampard got the chance to manage Chelsea. The original start was intriguing. Lampard looked set to promote plenty of young talent.
Chelsea invested heavily in the transfer market when given the chance. Lampard had a harder time managing the team's new stars. He was sacked. Thomas Tuchel was brought in and the team quickly won the Champions League. Since then, Lampard has been on the shortlist of several important clubs in England.
Andre Villas-Boas
Andre Villas-Boas is one of the most highly-rated managers in modern football. He is also, by many accounts, a difficult character. His last spell as manager, in charge of Olympique Marseille, ended with AVB handing in his resignation. Issues related to transfers and fan disenchantment look to have convinced the tactician.
It remains to be seen what lies on the horizon for the talented managers. Stints with Chelsea, Tottenham, and OM haven't exactly lived up to expectations. Perhaps a return to the Chinese Super League might be on the cards in 2022?
Football Managers Without Jobs Update June 2020
The 2019/20 season is nearly over. Out of the managers we mentioned in our initial run, many are still without a job. Massimiliano Allegri and Mauricio Pochettino may have had offers. But, they've so far turned them down. Arsene Wenger, for example, has all but retired from management.
Available managers at the moment also include relative newcomers.
Lauren Blanc – Last managed Paris Saint-Germain. Blanc was previously linked to the Manchester United job.
Marco Silva – Last managed Everton. After one successful campaign where he guided the Toffees to a mid-table finish, Silva lost his job in 2019.
Leonardo Jardim – Last managed AS Monaco. Jardim has already amassed numerous managerial experience. New challenges are sure to become available.
Other high-profile managers without a job at the end of the 2020 season are:
Ernesto Valverde – Last managed FC Barcelona. This was his most high-profile employment. La Liga offers are likely to follow next season.
Unai Emery – Last managed Arsenal. Emery's reputation may have taken a hit from managing the Gunners. But, his resume is impressive enough that many job opportunities are sure to follow.
Luciano Spalletti – Last managed Inter Milano. Spalletti was not the man to lead Spalletti into a new era. Despite this, in the last decade alone, he has managed AS Roma, Zenit, or Udinese. New opportunities are certain to follow.
Football Managers Without Jobs Update 1st of October
We are surprised to note that out of the 5 high-profile managers listed in the original article, all of them are still without a job at present time. Regardless, rumors swirl regarding all of these managers, with the season underway and some teams under-performing, and the managers in charge threatened with losing their jobs.
Football manager jobs are hard to come by, all the way from nonleague football to UK's Premier League. Besides the 5 managers previously mentioned, whose statuses we are now updating, other high-profile professionals in search of a job include Fernando Hierro, Santiago Solari, Luis Fernandez, Luciano Spalletti, Laurent Blanc, Sam Allardyce.
Mauricio Pochettino
The Argentine manager looks to have been the victim of his own success. While undeniably raising the profile of Tottenham and guiding them through a period of economic unrest, the club's recent results were the cause for his dismissal. It has proven a controversial decision for fans of the London club. Jose Mourinho replaces Pochettino, with the club hopeful of earning silverware that has proven elusive in recent years.
Pochettino will likely not be out a job for too long. Seen by many as one of the greatest managers of his generation, the Argentine is said to have previously sparked the interest of clubs like FC Barcelona, Real Madrid or Manchester United.
With the current shuffle of football managers, Mauricio Pochettino looks to be the favorite to take on the Bayern Munchen hot seat, a position left vacant following the recent dismissal of Niko Kovac. Taking on the manageral job of one of Europe's biggest clubs would certainly go to reward Pochettino's impressive results. The Argentine would be at the helm of a squad that is still dominating the Bundesliga and which includes Philippe Coutinho, whom Pochettino previously coached at Espanyol.
Massimiliano Allegri
A more mysterious case of a manager without a club is Mr. Allegri. The Italian has helped helm Juventus, continuing their run of success in Serie A. He also got the club close to the elusive Champions League crown on a couple of occasions.
He now leaves Maurizio Sarri in charge of trying to make the push towards European silverware. Allegri is thus far without a job. And, were it not for the majority of big names clubs already having their management team set up, the Italian would no doubt be fielding plenty of calls.
Update 1st October: Out of a job and looking for one to match the ambitions of Juventus, his previous employers. Manchester United is said to be sniffing around.
Arsene Wenger
Watching the reputation of Arsene Wenger enter into decline has been a tragedy of Shakespearean proportions. Forced to leave Arsenal, the club he helped build in its modern iteration, Wenger has remained out of a job for a year now.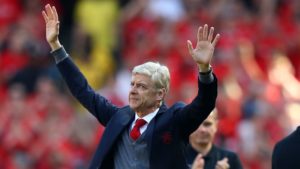 Rumors that he would be returning to France or Japan, where he previously coached, have not come to fruition. Famously, Wenger turned down offers from Real Madrid and Manchester United in the past. But, the chance for a do-over does not seem to have come this time around. With that being said, his vision in charge of a different club other than Arsenal would be something to see.
Update 1st October: Previous reports suggested Wenger might be ready to hang up his managerial boots. However, in a new interview, the Frenchman has talked about the possibility of managing Manchester United in the future. If the deal goes through, it would be one of the most unexpected management switches in modern football.
Claudio Ranieri
Ranieri should be included on this list because of his job status and his reputation. Still, we would hesitate to wager on the Italian master remaining jobless by the start of the new season. At least, if we go by his recent history.
Ranieri already had an impressive resume when he took on lowly Leicester City. You may remember, he guided the Foxes to their first Premier League trophy. He was asked then to leave Leicester, the following season, when it became apparent that in no way was it feasible for the club to repeat this feat. He followed it up by managing Fulham, a team visibly out of their depth in the EPL. The 2018-19 season ended with Ranieri being handed the job of manager at AS Roma, a job he left vacant at the end of the campaign. We're ready to bet that Ranieri's agent is a busy man this summer.
Update 1st October: Naturally, given his resume, Claudio Ranieri is likely to be one of the first men thought of for the hot-seat of a struggling big-name club. However, recent reports link the former Leicester manager with a job in charge of the African national team Guinea.
David Moyes
Alright. We will not take the low-hanging fruit of making fun of Moyes' recent career record. We will say, however, that regardless of a number of failures, Moyes is rumored to return to management by the start of the season. He is considered for the job of manager of his native Scotland. We for one would welcome a return to the days of success that Moyes enjoyed with Everton circa 2012.
Update 1st October: Former Everton, Manchester United, Sunderland, and West Ham manager, Moyes, has been in the news lately merely for his punditry. But, given his experience, we may see him return to the management seat once some heads start to roll as the season advances.
How about you? Who will you be managing in fantasy football contests for the next season? The most important leagues in the world remain active in FootballCoin. And, the game is ready to reward its top managers with XFC cryptocurrency.
Jose Mourinho
There's no surprise we would begin our list with Jose Mourinho. Hailed by himself, and numerous admirers as the special one, Mourinho's management career has been a fascinating one. Successful spells at FC Porto, Inter Milan, and Chelsea created a legacy equaled by very few. But, his career has seemed to enter a decline in the last decade. His last job was with Manchester United and it ended poorly.
Mourinho says he wishes to return to management this season. Recently he has claimed to desire a job with a national team. Even more recently, Mourinho has declared his interest in returning to Serie A. With most high-profile jobs in Italy already taken, the Portuguese may have to wait his turn.
Update 1st October: No other manager without a job has been as frequently in the news as Jose Mourinho. The former Manchester United man-man has been linked with jobs in Serie A, Premier League, or at the national team level. Currently, Mourinho looks to be in poll position for the job at Real Madrid, currently occupied by Zinedine Zidane.
Update 19th November: In one of the more surprising managerial changes in recent years, Jose Mourinho has been named manager of last year's Champions League runners-up, Tottenham Hotspur. The London side announced a day previously that they were parting ways with long-time manager Mauricio Pochettino.
While the announcement of Pochettino's dismissal came as a shock to most, it follows what has so far been an uncharacteristically poor season. Tottenham sit in 14th place after 12 weeks. There have also been rumors of players' dissent, said to have been brought on by a desire for increased wages and the desire to be able to transfer to a different club.
Jose Mourinho returns to the Premier League, with Tottenham the third club he has coached in the English top tier. While the team's objectives for this season haven't been announced outright, it is expected that Mourinho will need to follow up on the success the team has enjoyed in recent seasons.
Eduard Bănulescu