Capable of nurturing and developing numerous quality players, Ligue 1 is one of the most exciting football competitions in Europe today. These are the 5 players that have posed the greatest threat to goalkeepers across the French league. See who makes the list and how well they score in fantasy football. 
5 Memphis Depay
A graduate of the Premier League, Depay's transfer to Ligue 1 has so far been in the player's favor. Not only has the Dutchman scored more than 40 goals in around 100 appearances for Lyon, but he has also become one of the club's leaders. In the 2019/20 season, Depay scored 8 goals in Ligue 1, provided 2 assists and has been responsible for some highly eye-pleasing display.
4 Moussa Dembele
Another of Olympique Lyon's players makes the cut here. Dembele has also scored 8 times. He has also represented France at youth level, impressing along the way. Ligue 1 teams have acquired a reputation of producing impressive talents and Moussa Dembele is another example of this.The rumors ring loud that the talented football striker may make his way to the EPL this winter.
3 Habib Diallo
Metz's striker started strong right out of the gates and has announced himself as a prime candidate for the Top Goalscorer prize in Ligue 1. He has scored 9 goals so far, provided 1 assist and has helped tremendously in Metz's bid to avoid relegation. The team currently sits just above the drop line in the Ligue 1 table.
2 Victor Osimhen
A truly gifted football striker wastes no time in making his name known. Such is the case with Victor Osimhen, one of the most praised youngsters in the French top tier. In only his first season in Ligue 1, the 21-year-old has scored 10 times in 18 appearances for Lille. Regardless of Ligue 1 fixtures, Osimhen has proven his class. It remains to be seen how good the French club is at managing the Nigerian's career forward, with the striker already on the radar of some of Europe's best football teams.
1 Kylian Mbappe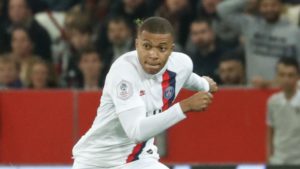 Mbappe has managed to shine in 2019, even without noticeably playing at the top of his level. The most highly-rated youth in world football has managed to score 11 goals in the second part of 2019, sitting at the top of Ligue 1 top scorers' list. More impressively, he has done so regardless of starting in only 9 games for Paris Saint-Germain.
It remains to be seen what the future holds for this football superstar. Clearly, while Ligue 1 has helped in Mbappe's evolution, he is simply a player that is too good for what the league has to offer him. His 44 goals in 41 matches for PSG are telling of this. For these reasons, Kylian Mbappe is our pick for the best football striker in Ligue 1 in 2019.
Which football strikers have you lined up for your fantasy football draft this season?
How will the players that were included on our list evolve in the coming season?
Make sure to head over to the FootballCoin contest page for a chance to play, scout and win important rewards!
Eduard Bănulescu